The Prosume Platform

---
The future is PROSUMErs – individual consumers, energy communities, businesses will  exchange and sell energy at a cheaper price and in a more sustainable way, maximizing the use of renewable sources locally produced.
Decentralized, decarbonized, digitalized prosumed policy is the only possible future for energy!
DISCLAIMER
This document is a technical whitepaper (the "Whitepaper" or "Paper") setting out and illustrating the current and future projects (the "Project") of Prosume Energy Foundation ("Prosume" or the "Foundation") and in connection with the development of its platform (the "Platform") to potential tokens holders in connection with the proposed Prosume token (the "PEF Token" or "Token") launch (the "Token Generation Event").
***.**.***
Nothing in this Whitepaper shall be deemed to constitute a prospectus of any sort or a solicitation for investment, nor does it in any way pertain to an offering or a solicitation of an offer to buy any securities in any jurisdiction. This document is not composed in accordance with, and is not subject to, Laws or regulations of any jurisdiction which are designed to protect investors.
This Paper is not directed to, or intended for distribution to or use by, any person or entity who is a citizen or resident of or located in any State, Country or other jurisdiction where such distribution, publication, availability or use would be contrary to Law or regulation.
The manner of distributing this Paper may be restricted by Law or regulation in certain Countries.
Persons into whose possession this Paper may come are required to inform themselves about and to observe such restrictions. By accessing this Paper, a recipient hereof agrees to be bound by the limitations provided by this Paper.
The information set forth in this Paper may not be exhaustive and does not imply any elements of a contractual relationship. The sole purpose of this Paper is to provide relevant and reasonable information to potential Tokens holders in order for them to determine whether to undertake a thorough analysis of the Foundation, the Project and the Platform with the intent of acquiring PEF Tokens. This Paper is for information purposes only and is not a statement of future intent.
This Paper is only available on www.prosume.io and may not be redistributed, reproduced or passed on to any other person or published, in part or in whole, for any purpose, without the prior, written consent of Prosume.
***.**.***
Unless expressly specified otherwise, the Foundation, the Project and the Platform set out in this Paper are currently under development and are not currently in deployment. No warranties or representations are made as to the successful development or implementation of the Foundation, the Project and the Platform and of the subjacent technologies and innovations, or achievement of any other activities described in the Paper, and any warranties implied by Law or otherwise, are disclaimed and waived to the extent permitted by Law. No person is entitled to rely on the contents of this Paper or any inferences drawn from it, including in relation to any interactions with Prosume or the technologies mentioned in this Paper.
All liabilities for any loss or damage of whatsoever kind (whether foreseeable or not) which may arise from any person acting on any information and opinions relating to Prosume, the Platform or the Project contained in this Paper or any information which is made available in connection with any further enquiries, notwithstanding any negligence, default or lack of care, are disclaimed and waived.
Certain statements, estimates, information and opinion contained in this Whitepaper constitute forward-looking statements or information. Such forward-looking statements or information involve known and unknown risks and uncertainties which may cause actual events or results to differ materially from the estimates or the results implied or expressed in such forward-looking statements.
The information contained in this Paper derived from data obtained from sources believed to be reliable is given in good faith, but no warranties, guarantees, or representations are made with regard to the accuracy, completeness or suitability of the information presented. It should not be relied upon, and shall not confer rights or remedies upon, you or any of your employees, creditors, or any other person.
Any opinions expressed in this Paper reflect the current judgment of its authors and do not necessarily represent the opinion of Prosume and may change without notice. There is no obligation whatsoever to amend, modify or update this Paper or to otherwise notify a reader or recipient thereof in the event that any matter stated herein, or any opinion, projection, forecast or estimate set forth herein, changes or subsequently becomes inaccurate.
Prosume, its directors, employees, contractors and representatives do not have any responsibility or liability to any person or recipient (whether by reason of negligence, negligent misstatement or otherwise) arising from any statement, estimates, opinion or information, expressed or implied, arising out of, contained in or derived from or omission from this Paper. Neither Prosume nor its advisors has independently verified any of the information, including the expectations and projections contained in this Paper.
Each recipient has to rely solely on its own knowledge, investigation, judgment and assessment of the matters which are the subject of this Paper and any information which is made available in connection with any further enquiries and to satisfy itself as to the accuracy and completeness of such matters. It is recommended to obtain advice from experts such as legal or tax advisors.
Whilst every effort is made to ensure that statements of facts made in this Paper are accurate, all estimates, projections, forecasts, prospects, expressions of opinion and other subjective judgments contained in this Paper are based on assumptions considered to be reasonable as of the date of the document in which they are contained and must not be construed as a representation that the matters referred to therein will occur. Any plans, projections or forecasts mentioned in this Whitepaper may not be achieved due to multiple risk factors including, without limitation, defects in technology developments, legal or regulatory exposure, market volatility, sector volatility, corporate actions, or the unavailability of complete and accurate information.
Prosume may provide hyperlinks to websites of entities mentioned in this Paper, however the inclusion of a link does not imply that Prosume endorses, recommends or approves any material on the linked page or accessible from it. Such linked websites are accessed entirely at recipient's own risk. Prosume does not accept responsibility whatsoever for any such material, nor for consequences of its use.
The Whitepaper, written in English language, is the primary official source of information about the PEF Token launch. The information contained herein may be translated into other languages or used in the course of written or verbal communications with existing and prospective customers, partners, etc. In the course of such translation or communication some of the information contained herein may be lost, corrupted, or misrepresented and, in any case, the accuracy of such alternative communications cannot be guaranteed. In the event of any conflicts or inconsistencies between such translations and communications and this official English language Whitepaper, the provisions of this English language original Paper shall prevail.
Notwithstanding the above, if you are a green card holder of the United States or a United States citizen or permanent resident of the United States (tax or otherwise), or you have a primary residence or domicile in the United States (tax or otherwise), including Puerto Rico, the U.S. Virgin Islands or any other possession of the United States, or you are a citizen or permanent resident of the Republic of Singapore (tax or otherwise), or you have a primary residence or domicile in the Republic of Singapore or you are a citizen or permanent resident of Canada (tax or otherwise), or you have a primary residence or domicile in Canada, or you are a citizen or permanent resident of Hong Kong (tax or otherwise), or you have a primary residence or domicile in Hong Kong, or you are a citizen or permanent resident of People's Republic of China (tax or otherwise), or you have a primary residence or domicile in the People's Republic of China, you are not eligible to acquire PEF Tokens in any form and/or by any means.
The same applies if you are one of the owners or beneficiaries of the company, whether or not you are authorized to act on its behalf.
1.0 INTRODUCTION
1.1 Overview
The advent of the blockchain technology has introduced the world of decentralization and is challenging our preconceived perspectives of the current social, political, and economic systems. The rapid advancement of this technology has begun to blend the world borders and statute, providing glimpses of an improved, alternative future. Yet, the technology is still at its infancy and is plagued with shortcomings in terms of performance, ease of use, and service quality.
Generally, the majority of blockchain projects place emphasis on their decentralization methodology and lack evidence of adoption in the real world.
1.2 Ethereum
Launched in 2015, Ethereum was the first project to introduce the concept of "Smart Contract" in the blockchain world opening the unforeseen possibilities of Decentralized applications(DAPPs). Ethereum is widely considered the greatest milestone in blockchain technology since the first introduction of Bitcoin by Satoshi Nakamoto; therefore, is referred to as Blockchain 2.0. It paved blockchain application beyond simple cryptocurrency transaction to a wider use of the technology including in the financial services industry.
Ethereum is gaining popularity as a ICO due to the simplicity of ERC20 Tokens generation.
2.0 PROSUME Foundation
The Prosume Foundation is a non-profit organisation that is responsible for the development and management of the Platform according to its Project. All contributions received by the Foundation during the Token Generation Event will be utilized to support the Project and Prosume's roadmap.
The Foundation will collaborate with different contractors to achieve its goals, as well as governments, businesses, academia and NGOs committed to realizing collaboration potential in communities around the world.
3.0 PROSUME'S PROJECT
Foundation's Project is aimed to develop a blockchain-based Platform to allow users to buy and sell electricity and gas from renewable and fossil energy sources using smart contracts.
The Platform will deal with many of current issues related to energy sector, like support for regulation frameworks, fair policy pricing and new business models and opportunities.
The Platform aims to be the most reliable energy community dealing with the real Levelized Cost of Electricity (LCE) and b.u.t. (thermal), in order to buy and sell energy with an approach based on:
sustainability

transparency

traceability

accessibility

deregulation

decentralization

digitization

decarbonization

flexibility

resiliency.
In particular, the Platform will:
connect electricity producers (the "Producers") and consumers (the "Consumers") to trade and exchange energy in a decentralized on-line market, combining an energy trading platform to a monitoring system;
provide a decentralized, autonomous, independent and digitized smart marketplace, allowing the trade of different energy sources, as well as promoting and accelerating decarbonization actions;
maximize the efficiency of fossil fuels, minimizing their impact on our environment.
Communities, grid-operators, utility companies and energy services companies' (the "Operators") will administer their own local energy platforms using a permissioned blockchain, that can be linked to federated zones.
PEF Tokens will enable Producers and Consumers (collectively, the "Prosumers") to buy electricity and gas assets delivered by various sources and providers through the Platform.
The development of the Project and of the Platform will be supported by the Token Generation Event.
4.0 PROSUME's Platform
4.1 Platform Description
The Platform is a blockchain enabling peer-to-peer energy trading platforms to build transactive energy networks into a decentralized energy market, fostering the transition to a new economic model for energy production, distribution and storage.
The Platform will be used by utility companies, grid-operators, system integrators and communities to easily build local ecosystems and on-line marketplaces.
4.2 Platform Functioning
The Platform connects independent Producers, Consumers, innovative utility companies and energy communities in a locally shared market where each peer is free to sell and buy energy in a multi-tenant ecosystem.
The Platform allows Prosumers to directly trade electricity and gas from renewable and fossil energy sources in a market where the final price and quantity are determined by trading algorithms based on auction clearings on the blockchain.
Producers and Consumers will determine the bid and ask price of electricity while the trading algorithms and smart contracts will do the matching and the settlement.
The minimum and maximum prices of electricity are determined by standard contracts as established by local regulators and actual players (DSO/TSO/Utility/Authority).
The Prosume mobile App will provide access to the Platform allowing to choose and match different profile presets for:
the best offer;

the most green;

the most customized;

the nearest local offer.
Consumers will choose according to their needs, possibilities and ethics.
Producers and Operators will provide offers within their capacity and they will compete with other players on the digitized on-line market.
Producers and Consumers will have to join and register on the platform and trade energy using PEF Tokens.
5.0 Project and Platform Advantages
The Project, using a blockchain-based Platform, is aimed to:
promote the self-consumption and self-sufficiency of energy, and a local energy storage community process;

enable independent renewable energy players to sell energy at a fair price (according to the local legislative framework);

foster Consumers freedom to choose available energy sources;

enable energy Producers to find new Consumers and develop smarter energy policies and business opportunities using the Platform for market analysis;

improving the reliability of rural and off-grid areas' access to energy;

create transparent transactions through smart contracts;

   

improve energy sources traceability;

increase decentralized energy competitiveness.
6.0 Project Features
The Project aims to empower:
Consumers' flexibility to choose power sources;

small independent Producers (better price and bigger market segment);

utilities with new market opportunities (utilities can serve a niche market);

Prosumers (individual Producers can sell their extra energy at the best price to other Prosumers);

reduction of grid maintenance costs (physical traceability and implement forecasted production of intermittent renewable energy sources);

local community storage (the Platform makes it more convenient to store energy in a shared neighbourhood battery system;

trustworthy deals through smart contracts;

local energy communities (the Platform promotes local energy community development policies).
Furthermore the Project aspires to:
educate Consumers (traceability of the energy sources);

provide safer and reliable payment method;

deregulate through market demand;

digitize of energy assets;

promote environment vs fossil mix policy approach;

reduce and preserving fossil fuels.
7.0 Platform Applications
The Platform will be flexible enough to integrate the Operator application needs. The following proposed applications will be provided on a B2B model to the partners managing the local infrastructures and installed capacity.
7.1 CRYPTO-EQUITY FOR RENEWABLE ENERGY PROJECTS
With the Platform, Prosumers are incentivized to participate in the promotion, use and exploitation of renewable energy plants and storage assets owned by the community. This will reduce the cost of production and the implementation of neighbourhood storage and power plants.
7.2 Peer-to-Peer ENERGY EXCHANGE PLATFORM
The Platform provides its users with a simplified payment method to acquire energy (by different tools) receiving a direct benefit on transaction costs and reliable data forecasts.
7.3 SMART COMMUNITY ENERGY AGGREGATOR DEVELOPMENT
The Platform will empower people to participate in specific aggregators' requests of energy demands, where Consumers can choose from different energy sources with specific criteria: green; local; fossil; sustainable, reducing intermediary costs and receiving benefits by participating in local energy community incentives.
7.4 SMART METERING / BILLING / ENERGY (Sustainable Behaviour)
The Platform will digitize and empower Consumers with autonomous, independent, and reliable data. Data analysis functionalities and production and consumption forecasts will promote virtuous and sustainable energy Consumers' behaviour.
7.5 STORAGE + TRANSMISSION EXCHANGE (Load Balancing)
The Platform will empower the production of renewable energies to be used during peak periods. With the use of storage systems and blockchain technology it is possible to forecast and manage load balancing more profitably, thus reducing grid costs and promoting a better energy-mix policy, independently and reliably. Consumers will boost the electricity grid balancing through demand response.
7.6 ELECTRIC VEHICLE PLATFORM
The Platform enables electric vehicles management, data collection and identity management in a fast and reliable way, empowering electric vehicle rentals with energy barter systems.
7.7 TRADING AND MANAGING OIL & GAS ASSET WITH BLOCKCHAIN TECHNOLOGY
The Platform empowers Consumers to use fossil fuels in a smarter way, promoting decarbonization within a more complete mix of energy policy, using different sources of energy in the most sustainable way. By minimizing the consumption of fossil fuels the Platform builds a proper balance between the real Levelized Cost of Energy (LCE) production and the ecological footprint, taking into account the real cost/benefit factor, timing and terms of use.
8.0 Technical Overview
Platform provides a modular solution that enables local communities to share internet and energy peer-to-peer while optimizing the complexity and cost to build and manage micro-grids and local community networks.
It is based on blockchain technology, IoT devices, opensource software and standard protocols making it compatible with existing infrastructures.
The use of the blockchain technology provides a crypto-currency and "wallet" to manage easily, transparently and safely the value generated.
The Platform allows the sharing of data and energy on a peer-to-peer basis by drastically simplifying the adoption of decentralized and distributed technologies.
Main features of the services provided by the Platform consist of:
integration of Power-Plant and Micro-Grid management on the ESCO model (Energy Sharing Company);

peer-to-peer exchange of electricity;

blockchain technology with crypto-currency and crypto-equity assets (with the option to convert this "energy-currency" into other "local currencies" and/or fiat money);

Platform's (and Project's) aim is to improve efficiency while reducing time and costs in building and managing network and energy infrastructures. Combining the network and the energy layer to build an internet of energy, the Platform will reduce points of failure and the need for additional hardware because of its adaptability in integrating with available and installed technologies. It spreads the intelligence on the devices that manage the energy, the data exchange and the gateways that acts as metering devices, managing the exchange of energy related assets. A more resilient and reliable infrastructure that supports the IoT deployment through the adoption of common standards (no lock-in effect) and providing higher levels of security and granular privacy definitions.

The Platform will introduce the TFT (Transaction Fee Token) Token to support the development of the peer-to-peer energy exchange system for Prosume's P2P solutions and interconnect different permissioned blockchains.
The TFT Token runs on each of the private permissioned blockchains installed in each project and empowers users to use the system, giving the local project the fee needed to maintain the system.
The Token Generation Event will be launched using the Ethereum Blockchain and developed through a smart contract.
The main difference between PEF Tokens and the existing crypto-currencies is that PEF Tokens exchange function will be implemented on the Platform allowing the Prosumers to exchange their PEF Tokens into local TFT (Transaction Fee Token) Tokens on any wallet in any Platform installations around the world. The TFT Token will be used in all the Platform transactions (Energy read, Meter read, etc).
9.0 PROSUME Roadmap
The Project includes the realization and implementation of:
a Private Locked Trading Platform (PLTP) that is a platform that can be deployed in energy communities, where prices will be locked (albeit changeable over time) and where utilities will provide the service and peer-to-peer is not permitted by country legislation;

Private Unlocked Trading Platform (PUTP) that is a platform that can be deployed in energy communities where the legislative framework allows to exchange energy peer-to-peer. The price will be managed by a platform exchange system with ask/bid orders and prices will be decided by the community in a "free market";

a Public Trading Platform that is a public platform where peer-to-peer will be allowed even between different regional platforms and where Prosumers will be able to sell (and buy) energy from any other Prosumers on the Platform (with a raising fee mechanism based on geographical distance and type of energy tokens).
Additional functionalities will be added and upgraded to the Platform to provide services such as flexibility market operation, assets visualization across the value chain (substations, lines, EV chargers), integration of the business process in the regulatory framework.
Once the successful implementations in pilot sites are completed, Prosume will export the model throughout strategic partnerships across the value chain.
The roadmap of the project:
September 2016: Developing of the Exchange Platform Concept

January 2017: Utility and Energy Comunity

March 2017: First Pilot Project with Utility in Europe

June 2017: Delivery First Pilot Test Project

September 2017: PROSUME Energy Foundation

Q1 2018: Alpha Release of the Private Locked Trading Platform deployed in pilot sites

Q2 2018: Beta Release of the Private Locked Trading Platform and more pilot sites

Q3 2018: Release of the Private Locked Trading Platform and Alpha Release of the Private Unlocked Trading Platform (with free exchange features where it is allowed by legislation)

Q4 2018: Completion of the monitoring Platform and Beta release of the Private Unlocked Trading Platform

Q1 2019: Release of the Private Unlocked Trading Platform and start of the Public Trading Platform Website

Q3 2019: Release Alpha of the Public Trading Platform

Q1 2020: Release of the Beta Public Trading Platform

Q3 2020: Release of the Public Trading Platform
10.0 PROSUME Token Generation Event
10.1 Term Summary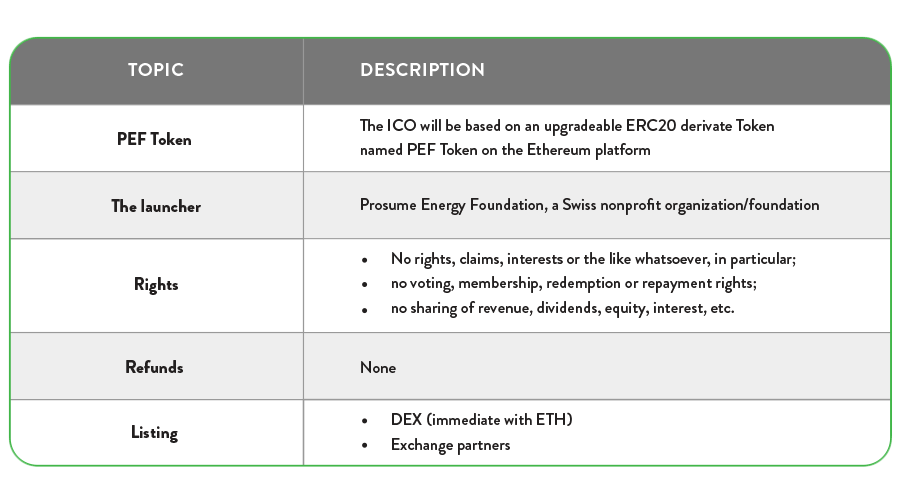 Persons participating in the Token Generation Event are fully aware that by participating in the Token Generation Event or any related event, they shall not acquire or receive in whatever way any rights, claims, interests or the like whatsoever, in particular no claim for the restitution of what they made available in the course of the Token Generation Event.  In that sense, the Tokens they receive for their participation in the Token Generation Event ultimately may or may not have any value.  By participating in the Token Generation Event, there is a high risk that anything of value they made available for the purpose and in the course of the Token Generation Event will be lost and without any value whatsoever, in particular if the Project fails or the Foundation goes bankrupt or enters into any comparable proceedings.
Furthermore, it is in the Foundation's sole and exclusive discretion how and when to use the contributions received in the Token Generation Event.
10.2 PEF Token
In order to support its Project and its roadmap above, Prosume is launching a Token Generation Event based on upgradeable ERC20 derivate Token named PEF Token on the Ethereum platform.
Prosume will be implemented on the public Ethereum blockchain as an ERC20 token. The Ethereum blockchain is currently the industry standard for issuing custom digital assets and smart contracts. The ERC20 token interface allows for the deployment of a standard token that is compatible with the existing infrastructure of the Ethereum ecosystem, such as development tools, wallets, and exchanges. Ethereum's ability to deploy Turing-complete trustless smart contracts enables complex issuance rules for cryptocurrencies, digital financial contracts, and automated incentive structures. These advanced features and active ecosystem make Ethereum a natural fit for Prosume.
The PEF Token will be upgradeable using an opt-in mechanism for future upgrades, the PEF Token will be non-transferable until the Token Generation Event ends.
The Token Generation Event contract will have a bonus strategy coded in following the scheme outlined below.
The Token Generation Event contract will implement a kill switch mechanism in case any issue arises during the event.
The Token Generation Event contract will have a limit of 50000 PEF Tokens in order to facilitate a uniform Tokens Generation Event process. Multiple transactions are allowed.
The tokens accepted for the Token Generation Event are ETH (ethereum) BTC (bitcoin) and LTC (litecoin).
The relative exchange rates between BTC and ETH and LTC and ETH are ultimately determined at the end of the Token Generation Event process and will determine the exact amount of PEF Tokens for both BTC and LTC.
The PRE – Token Generation Event will start on the 27th of September 2017 and last until the 5th of November, providing early adopters and strategic partners the chance to exchange tokens for ETH or BTC or LTC with a significant Bonus. The following period of the Token Generation Event will start in November and will last for 6 weeks, with a different bonus rate every week limited to a certain size.
10.3 PEF Token Bonus Structure

The Prosume Energy Foundation reserves the right to close any bonus level and / or the Token Generation Event earlier.
10.4 Allocation
The total amount of PEF Tokens generated by the Token Generation Event will be generated token for token by PROSUME as reserves at the end of the Token Generation Event. All tokens will then be assigned to the Prosume's wallet.
The 30% of the PEF Tokens held by Prosume will be released for transfer after Token Generation Event ends.
Another 10% will be distributed amongst Prosume's team founders and advisors but held for 12 months (no transfer will be allowed).
The remaining 60% of the PEF Tokens held by Prosume will be kept by the Foundation and released later, following a schedule of 10% at each step of the Prosume's roadmap. This operation will release all the PEF Tokens available on the market by 24 months from the end date of the Token Generation Event.
The reserved PEF Tokens will be under the purview of the Prosume Energy Foundation, locked under the Prosume contract and used strategically to grow the Prosume ecosystem and support the activities of the Foundation. The Prosume's allocation will be used for three purposes: to administer PEF Tokens supply and Platform development, for marketing purposes, and for operational costs.
Platform Development: Prosume will use the reserved PEF Tokens to support the development of the Platform and reward individual developers and advisers.

Marketing: a supply of reserved PEF Tokens will be used to generate a starting balance for Prosume's partners and advisors.

Operational Costs: Prosume was established to ensure independent governance and growth of the Project. A portion of PEF tokens will be allocated to support ongoing operational, legal, and development costs.
The PEF Token and Token Generation Event contract source code (written with solidity) will be delivered before Tokens Generation Event starts on github at the Prosume github page (https://github.com/prosume/prosume-ico) for community review and auditing.